We conducted a mini-survey before the talk in Instagram and asked the question: Do you think Trail Running promote an inclusive and welcoming community? 94% said Yes. Our follow up question was, Have you experienced or know of any experience when someone did not feel safe while Trail running? 65%said yes while 34% said no. This 34% was mostly male.
While this survey is not conclusive, this confirms the need for a Dialogue. How do we make trail running a safe and empowering place for all?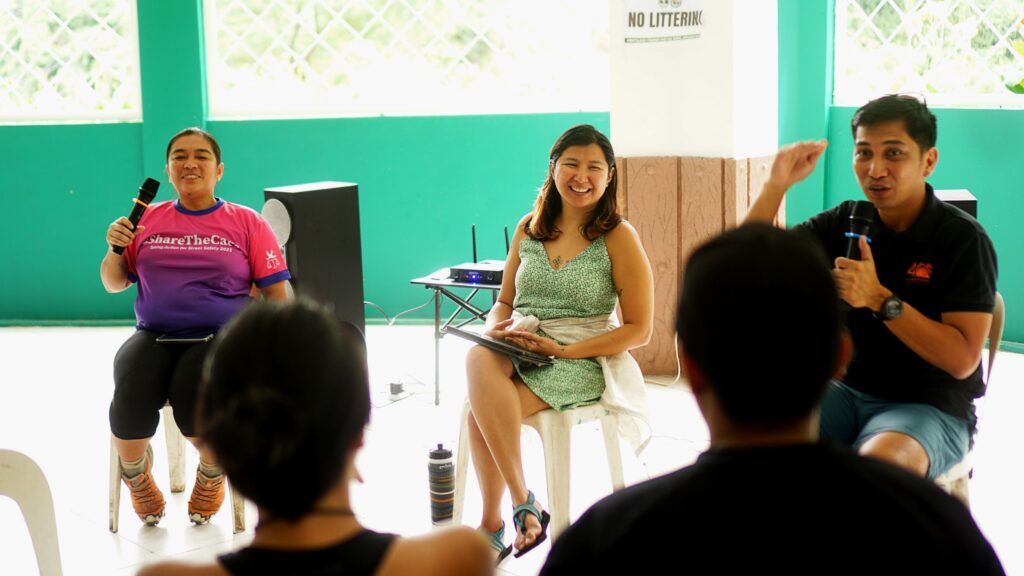 One of our speakers, Atty. Twyla Rubin opened the discussion and said "Kapag ramdam mo na hindi ka ligtas, tinatanggal natin ang power ng isang tao." Safe and empowering goes side by side.
Atty. Rolly Peoro, a self-confessed ex-mysigonistic macho, said "Dati pag safe ang iniisip natin physical lang – safe na trails, markings, security or ligtas sa injury." Safe space is more than being physical safety.
A safe space extends beyond its physical aspect because safety, comfort, and inclusivity are not limited to just physical locations. Creating a safe space is about creating an environment where individuals can be themselves, free from harm or discrimination, and where their physical, emotional, psychological, and social well-being are all considered. This holistic approach recognizes that safety is a multi-dimensional concept that extends beyond mere physical boundaries.
Atty. Chang shared that the Safe Space Act RA 11313 is now in place which as amended covers a wider scope and does not only apply on instances when there is power from the offender to the one offended.
"One of the purposes of RA 11313 is to broaden its reach in ensuring an individual's sense of personal space and public safety. Similarly, RA 7877 (Anti Sexual Harassment Act of 1995) is closely related to RA 11313 (Safe Spaces Act of 2019). The former has a limited definition of sexual harassment which is only confined to the harassment being committed in employment, education, or training environment, and for other purposes committed by very specific persons"
Watch the whole video here if you missed the Philtra Off-road Dialogues
We aim to create a safer environment for everyone, free from discrimination, harassment, and violence.
To make trail running a safe space and empowering for all, here are some key plans for implementation: 1. INCLUSIVITY: Foster an inclusive atmosphere that welcomes people from all backgrounds, abilities, and gender identities. Promote diversity and ensure that everyone feels valued and respected within the trail running community.
2. EDUCATION: Educate participants about the importance of respecting each other's boundaries and understanding the concept of consent. Awareness campaigns can help in this regard.
3. REPORTING MECHANISM: We intend to establish a clear and confidential reporting mechanisms for any incidents of harassment, discrimination, or misconduct. Ensure that these mechanisms are easily accessible and well-publicized.
4. TRAINING: We will provide training for organizers, volunteers, and participants on how to prevent and respond to incidents of harassment. This can include bystander intervention training.
5. ZERO TOLERANCE: We intend to enforce a zero-tolerance policy for harassment and discrimination. Swift and appropriate action will be taken in response to any reported incidents. This will be part of the membership committee's role.
6. COMMUNITY SUPPORT: Create a supportive community where individuals can share their experiences and concerns openly without fear of retaliation. This will be done through online forums, social media groups, or local meetups. Off-road Dialogues will happen.
7. REPRESENTATION: We will encourage diversity in leadership roles within the trail running community. Representation matters and having leaders from different backgrounds can help ensure that the needs of all participants are considered.
8. ADVOCACY: We will advocate for policies and practices that promote equity and safety in trail running, such as equal race distances and fair treatment of all participants. See the current Trail Running Standards copy here.
9. PARTNERSHIPS: We will collaborate with organizations and initiatives that promote safe and inclusive sports environments, such as organizations focused on gender equality and diversity in sports.
10. CONTINUOUS IMPROVEMENT: We will continually assess and improve safety measures and policies based on feedback and evolving best practices.
This is only the beginning; we will work towards creating a safe space that empowers and supports all participants, fostering an environment where everyone can enjoy the sport to its fullest.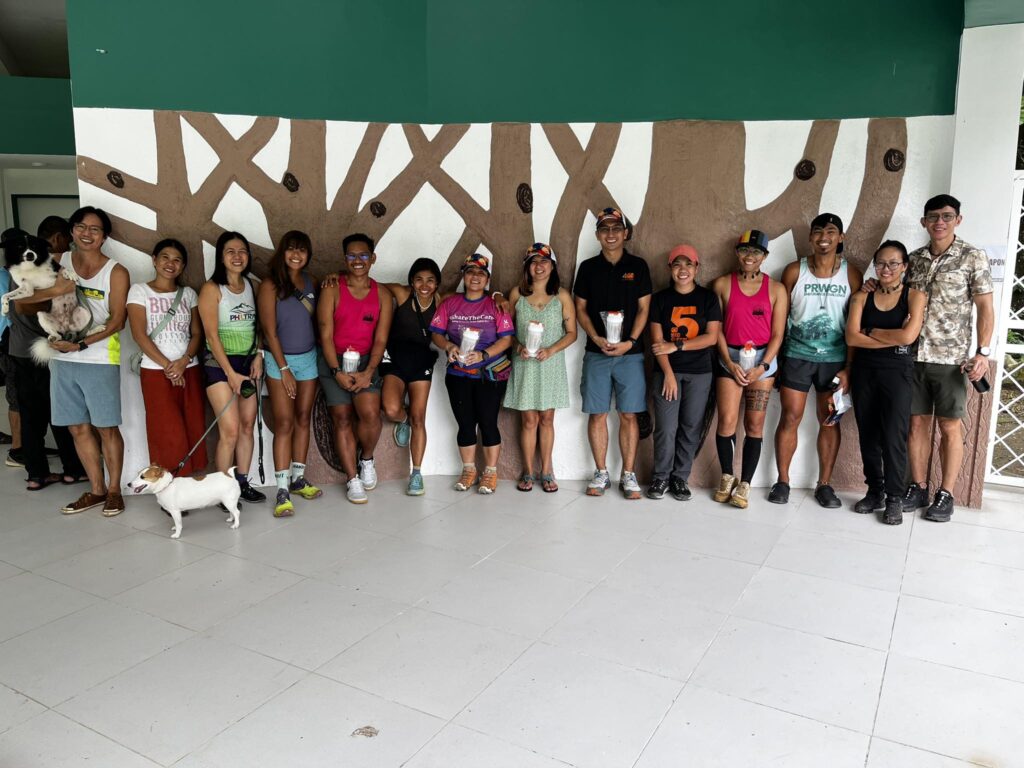 Thanks for making the event possible! In photo: Our speakers, PHILTRA officers and volunteers, UP Mountaineers, Trail Kweens.
A special thank you goes out to our esteemed speakers, Atty Twyla Rubin, Atty Rolly Francis Peoro, and Ms. Chang Jordan, for generously sharing their expertise and enriching our event.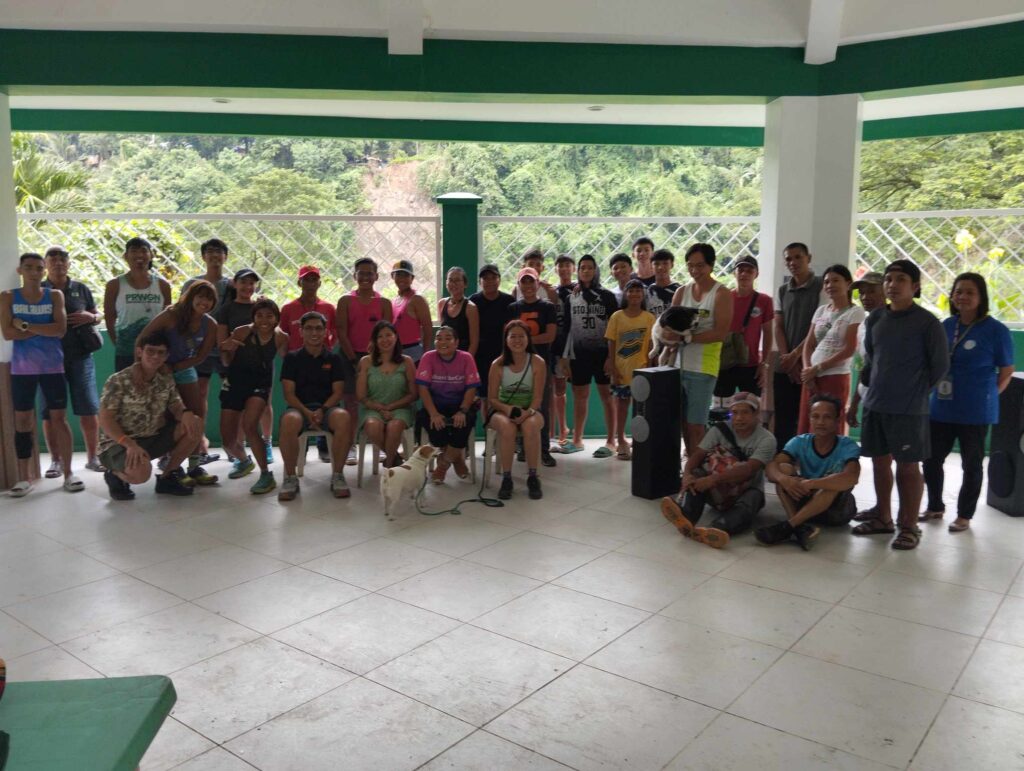 The attendance was truly diverse, including Trail Runners, Mountaineers, Athletes, LGU – Peace and Order representatives, Trail Communities, and mountain enthusiasts, all coming together for a well-rounded discussion on trail safety.
Our hope is that everyone takes the valuable insights gained from this session and shares them with others, contributing to a safer and more inclusive trail community.